LATEST NEWS
Annual General Meeting
The Annual General Meeting of the NSWBA was held on Wednesday December 11. The makeup of the new council is posted here.
The
2013 Annual Report is now available for viewing online.
Nomination and Proxy Forms
AUSTRALIAN NATIONAL CHAMPIONSHIPS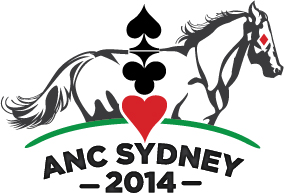 12 JULY – 24 JULY 2014
Help Wanted
NSW hosts the ANC only once in 8 years. Our turn comes up in 2014. We are looking to our members to volunteer for various jobs, both now and during the Tournament in July. So watch this space.
Does anyone have contacts with suitable sponsors, who might like to donate money for prizes, or products in exchange for publicity?
Does anyone have carpentry skills and would like to build some tall portable screens for display of results at the venue?
If you can help, please contact Marcia on 0411 562 997 or
Christmas Party and Duplicate Pairs
The NSWBA Christmas Party Pairs will be held on Sunday December 15. This year we will also be raising funds for the bushfire appeal. Prior entry by Thursday December 12 is essential for catering purposes.
Christmas Party Pairs Flyer
Congress License Fees are changing
In 2014 the method of calculating Congress License Fees will be based on masterpoints.
State Championships in 2015
The NSWBA is seeking expressions of interest from affiliated clubs in New South Wales to act as Licensees to run New South Wales State Championships from 2015 onwards.
Holiday Sessions at the NSWBA
There will be no evening session on Tuesday 24th or 31st December but Tuesday daytime games will be held as usual.
Closed Christmas Day, Boxing Day and New Year's Day.
2014 Grand National Open Teams
There will be a change to the way the Grand National Open Teams (GNOT) will be run in 2014. All regions in NSW will be adminstered by the NSWBA.
read more
NSWBA Strategic Review
Following the review conducted last month, the NSWBA has now developed a strategic statement for the period 2013-2017. It contains a statement of our vision, our mission, the values we intend to operate under, and the key challenges we have identified.
read more
Psyche Register
A new procedure for reporting a Psyche has been implemented at the NSWBA. Either the psycher or the person psyched against can report it.
read more